Off to print
Belgian architecture firm
RE-ST
researches complex spatial issues and seeks solutions by investigating wanderspace, the 'built-over or undeveloped space that we have produced together, but underuse on a daily basis.' For their 10-year anniversary, they compiled this brick-sized book that explores the question: 'Why do we build more than we need?'
This is an oh-so-important book in our current society, where we run the risk of paving every last bit of open space left. It was a great pleasure to work on this project.
Published by
nai010 Publishers
. Coming out in September!
New in
Found this bright paperback in our mailbox this morning! The cover was printed entirely in Pantone 805C, a zesty fluorescent pink that you can't reproduce on a screen. Always exciting to see ideas come to life on paper. This is also the first time that I made an illustration for a book cover.
Published by
Borgerhoff & Lamberigts
.
Off to print
This little book about how to have playful yet deep conversations went to print today. The author compares a philosophical conversation with making music: it requires attention, time, willingness to listen and alertness of mind.
The design of the cover and inside pages is based on this striking comparison between philosophy and music.
More about the book
here
. Coming out soon!
New coworking space
We moved into our new coworking space last week!
Come check out the bright red store front in the Lange Leemstraat in Antwerp. We're not there every day just yet, and are careful in keeping enough distance between us and our long-time coworking buddy
Pieter Boels
. But it's awesome to have a 'home away from home' again!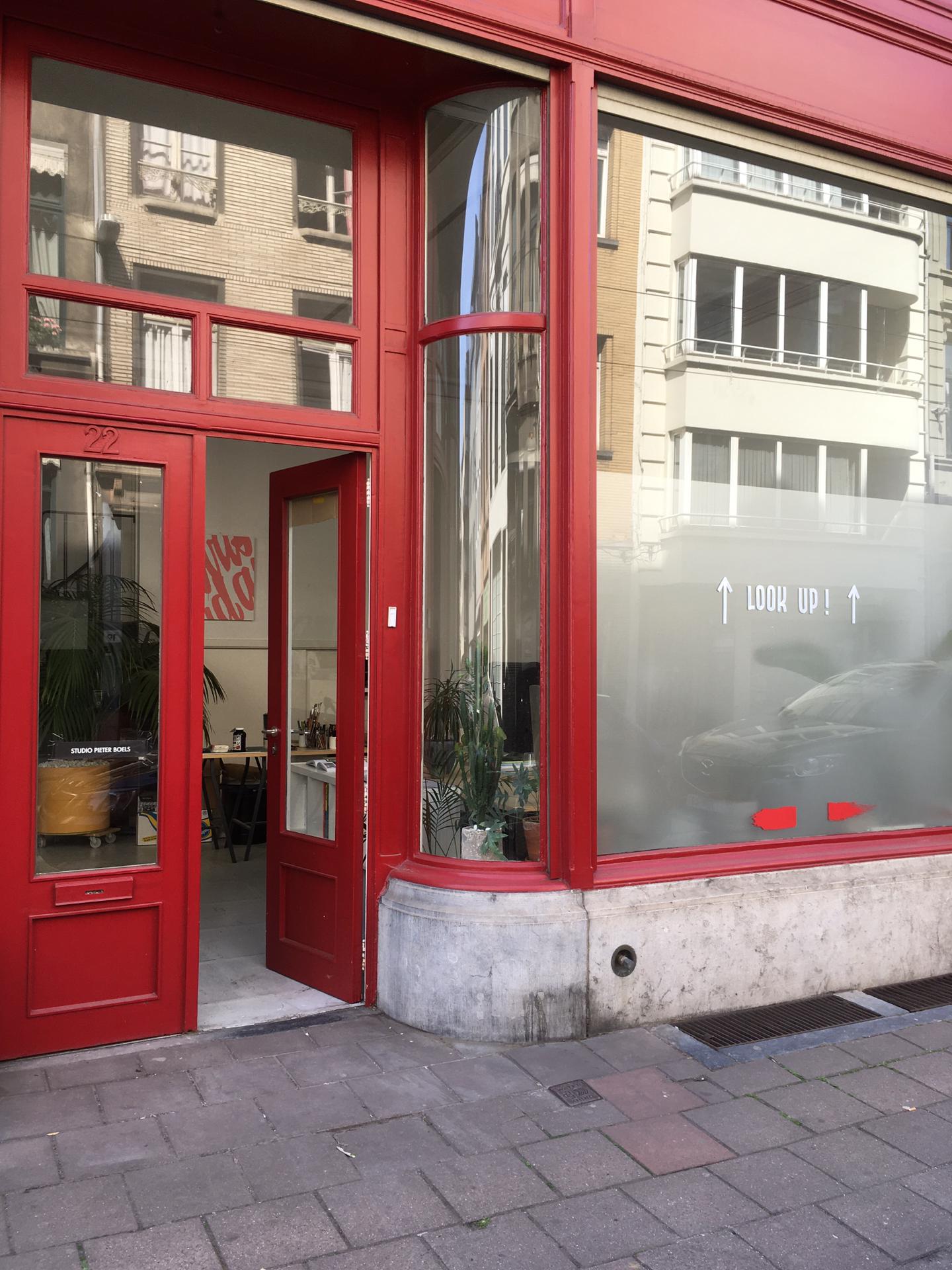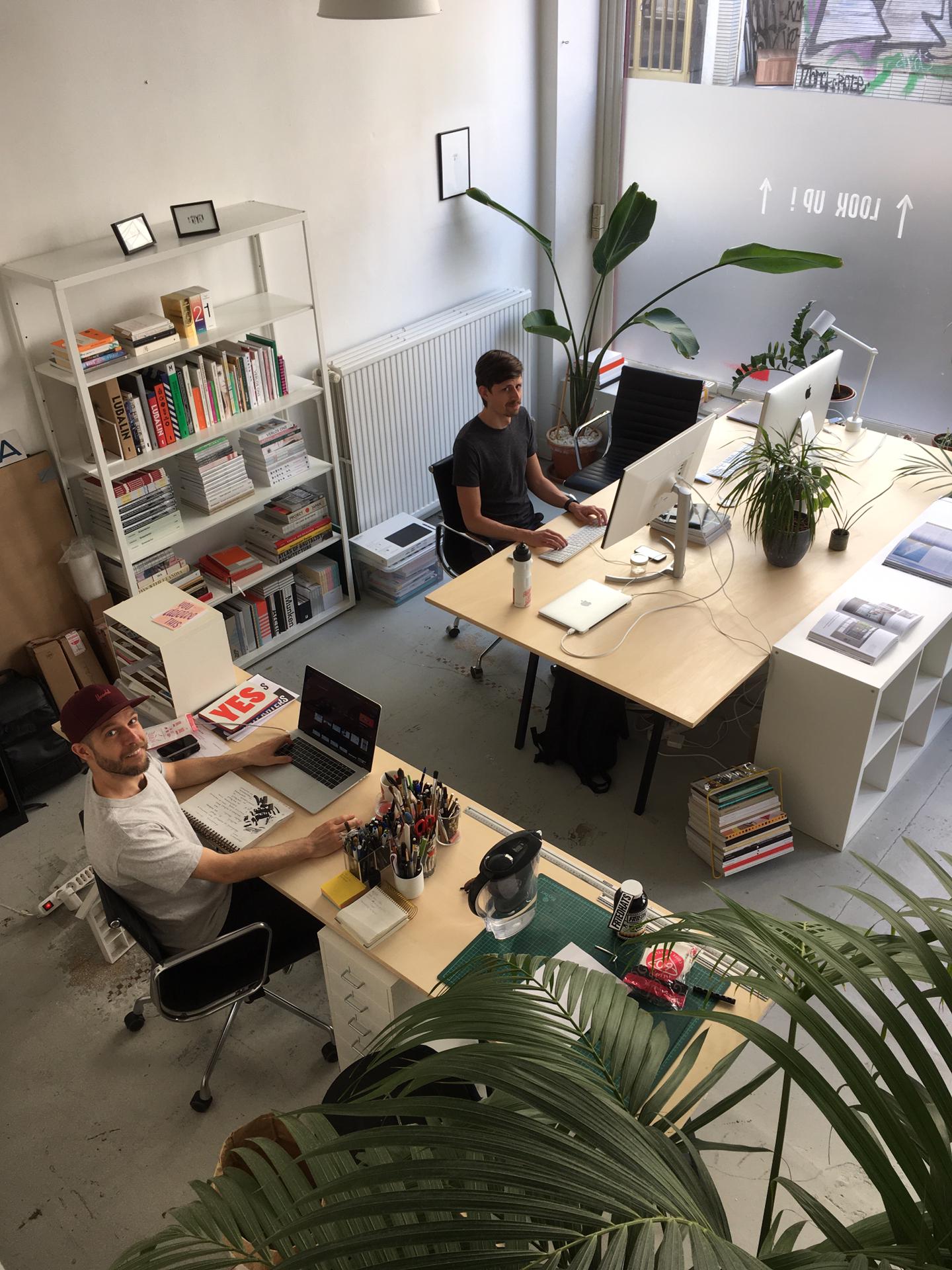 Life in times of corona
We have been in lockdown for a few weeks now. I'm in good company with Mathieu and our two cats, in our newly-renovated apartment and city garden, with enough design projects (and books and board games) to keep us occupied. In our little cocoon we sometimes forget everything that is happening right now – or rather, how life has been halted. But there is also good news: our planet is given a well-deserved holiday from the abuse, pollution and stress. The air is clearing, and nature moves on. It doesn't need us, we need it! Let's take a lesson from this, and incorporate some of the things that we have learned during this time into our 'normal' lives. Check out
this personal work
I made to try and convey this message.
'In many ways, what we're seeing now is a rapid and unplanned version of economic "degrowth" – the transition some academics and activists have for decades said is necessary to address climate change, and leave a habitable planet for future generations.'
– Natasha Chassagne on
The Conversation
Happy 2020!
Warmest wishes for the new year and decade ahead. I wrapped up my 2019 accountancy today and started up work again, after a nearly-two-week break (which was very welcome, yet did include a few sick days).
⠀⠀⠀⠀⠀⠀⠀⠀⠀
In November, co-printing company
L.capitan
asked a few graphic designers to design a holiday postcard: there was no brief, but they would blind emboss a star in the centre of the card. I'm not used to working without a brief or content, but knew that I wanted to play off the embossing by adding an asterisk (whose lines grow longer according to the golden mean principle). The choice of colour conveys a subtle environmental message, explained on the back:
Bleached Coral was named the unofficial Pantone Color of the Year 2020 by creative duo Jack + Huei, critiquing Pantone for choosing Living Coral as Color of the Year 2019. Coral reefs are dying around the world, due to global warming, pollution and overfishing (among others) – the design industry has a responsibility to draw awareness to environmental issues.
⠀⠀⠀⠀⠀⠀⠀⠀⠀
With that in mind, I'm hoping that lots of your new year's resolutions lists will include items such as becoming vegetarian or vegan, living plastic free, switching to renewable energy, buying less or even saving the planet. Remember: there is no plan(et) B…
⠀⠀⠀⠀⠀⠀⠀⠀⠀
Cards printed and embossed by L.capitan on Lessebo Design paper.
Working from home / Working on our home

At the end of October we returned the keys of our bright and airy coworking space. Since then, my partner Mathieu and I have been working from home. Well, not exactly our home, as we're also currently smack dab in the middle of renovating our ground-floor appartment. Fortunately we had the opportunity to move to the second (and top) floor of our building, which has a second, tiny bedroom – and this has become our make-shift office for the next couple of months. Things tend to slow down for me work-wise after summer, so we've been able to help out our builders a lot and do as much as possible ourselves. Can't wait for the final result… We're aiming to move back in the beginning of February.

Below is a before and 'after' (more like 'during') photo of our kitchen, one of the biggest transformations.

UPDATE: I've added a third photograph of our kitchen (taken 14 December 2019).
Happy authors showing off their books (with my covers)

From left to right: Yentl Keuppens with Genoeg, Uwe Porters with Verlos ons, and Tatyana Beloy with Nooit meer stiefmoeder!
Off to print – Part V
It's been a busy summer… With new clients! I designed the two book covers shown below for Ghent-based publisher
Borgerhoff & Lamberigts
. They went to print in the last two weeks.
Verlos ons
(Deliver us)
bundles stories by midwife Uwe Porters.
Nooit meer stiefmoeder!
(Stepmother, never again!)
is a book about 'plus parenting', written by actor Tatyana Beloy and professor/therapist Erik Franck.
Off to print – Part IV
This lovely 64-page book by British artist
Susanna Heron
went to press earlier this week. The artist's book will be published to coincide with the completion of her work
Stone Drawing
(2014–2019), a work of art located on both external and internal faces of the stone wall that forms the west side of the new Library and Study Centre by
Wright & Wright Architects
at St John's College Oxford. It will be revealed on September 28th.
Susanna creates site-specific and large-scale pieces, often in stone relief. For the book cover, we decided to emboss one of the original
Red Drawings
she made at the beginning of this major project.
Aside from designing the book, I also managed its production at
L.capitan
in Ruddervoorde (Belgium). Below are also some photographs from our two press days this week. On the first day we printed the cover and inside pages, and on the second day we embossed the cover.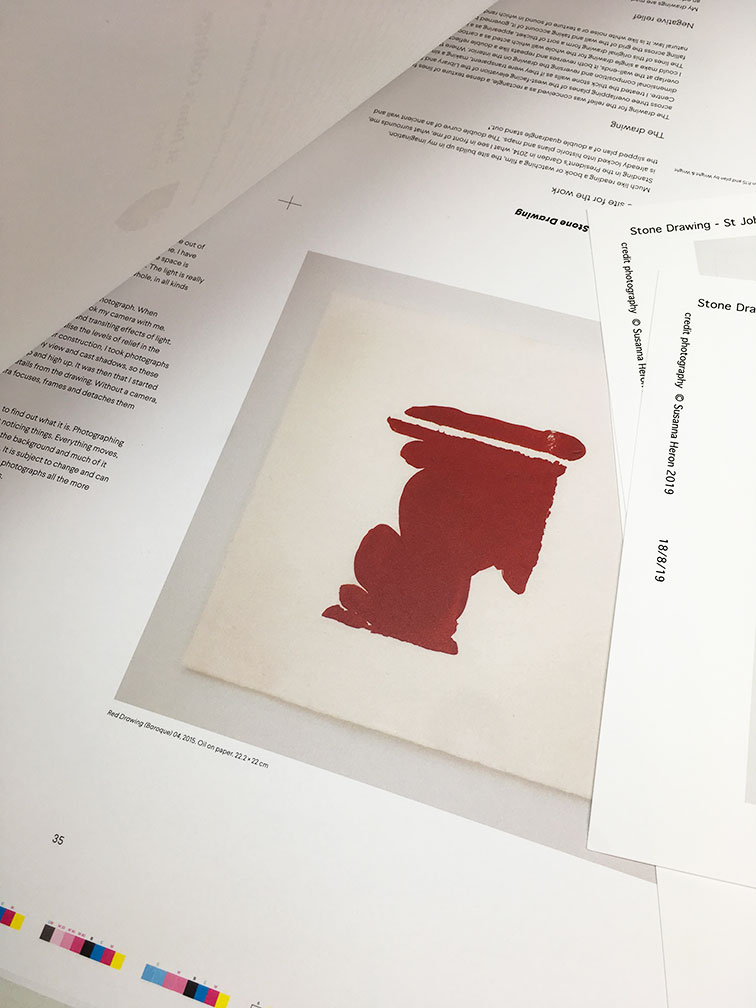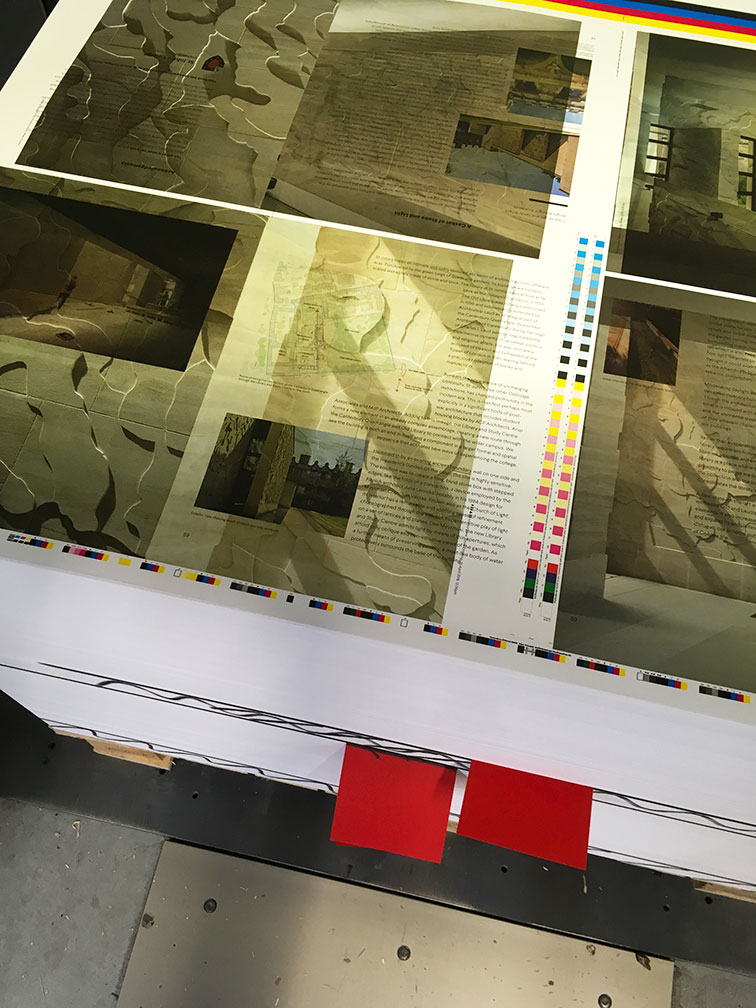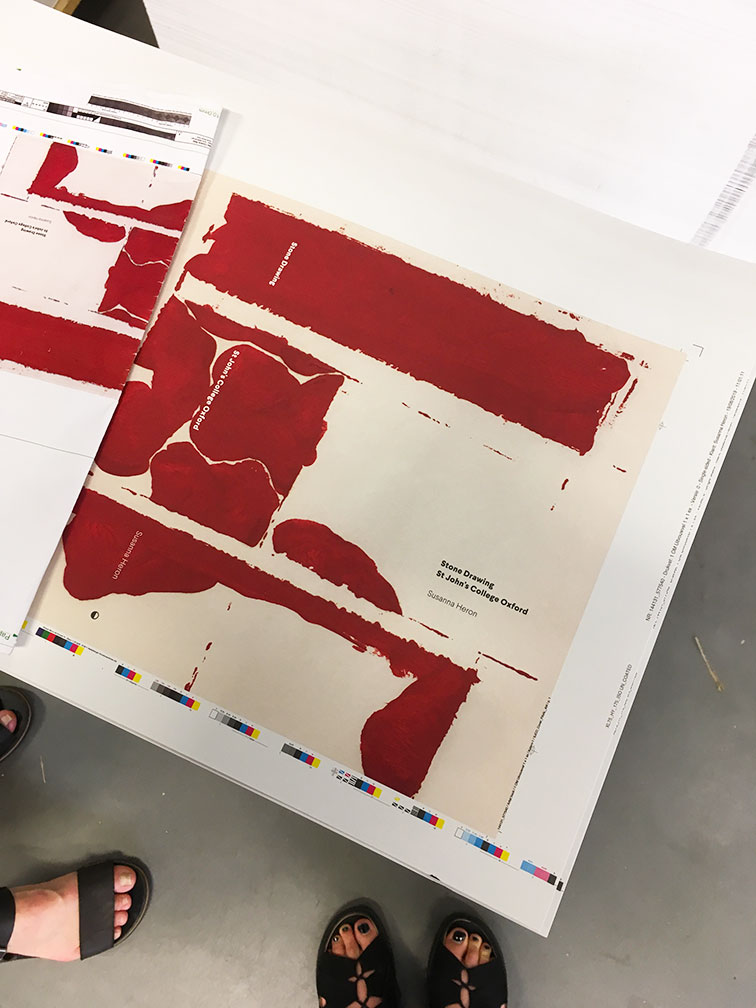 Off to print – Part III
Two more off to print today:
The 500 Hidden Secrets of The Hague
and
The 500 Hidden Secrets of Hamburg
.
Locals tell you where to go in the cities you love – that's what The 500 Hidden Secrets city guides do. Originally designed by Joke Gossé, I took over the design of the new titles and updates a few years ago. Check out their recently renewed
website
with great previews of their global destinations!
Off to print – Part II
Last night, I sent
Shakespeare x Ofili: Othello
to print! It's the first book in a new series by
David Zwirner Books
,
Seeing Shakespeare
, bringing the world's leading contemporary artists together with
William Shakespeare.
Othello
remains one of Shakespeare's most contemporary and moving plays, with its emphasis on race, revenge, murder, and lost love. Contemporary artist Chris Ofili asks us to see in
Othello
the great injustices that still plague the world today.
It was very exciting to design the template for a book series – I've always wanted to do that! Future titles in the series include
A Midsummer Night's Dream
illustrated by Marcel Dzama and
The Merchant of Venice
with images by Jordan Wolfson.
More about the book
here
. Coming out in October!
Off to print – Part I
Today was the hottest day ever recorded in Belgium… It was also the day that I sent
Eva Daeleman
's new book
Woman Up
to publisher
Horizon
to be printed (three days early by the way, but who's keeping count).
What a pleasure to work on: super interesting to read, beautiful pictures (taken by
Ellen van den Bouwhuyzen
and styled by Eva), and I was encouraged to create a bold design with strong colours (lots of yellow, pink and dark green).
Can't wait to hold this baby in my hands.
Collaboration with Nicety
Two London-based friends of mine, Sthuthi Ramesh & Sebastian Grenzhaüser (we all met at the London College of Communication), recently founded
Nicety
– an expert-curated, free and independent online library that makes it brilliantly simple for designers and makers to find the right materials and processors for their projects.
They asked me to come on board to help out with research, curation and communication. It's still a work in progress, but follow us on
Instagram
and sign up on the
Nicety website
to browse papers, curated collections and processors from all over the world.
Coming soon!

Cover design for Geheimen van de bestuurskamer written by Herman Daems and published by LannooCampus. The book talks about the inner and outer workings of Boards of Directors and how to ensure good corporate governance. The title refers to what happens inside a boardroom, so I created the look of an architectural blueprint. It will also appear in English as Insights from the Boardroom and in French as Les secrets des administrateurs. Out this fall!
Coming soon!
The cover design for
Eva Daeleman
's fourth book,
Woman Up
, was released this week. I will be working on the layout of the inside pages over the next few months and the book will be in stores in August.
L.capitan PrintAcademy #9
Piet Germonprez is one of the people that came with us to Munkedal (see post below). We had met five years ago, when he ran Pure Print (where
Kitchen Lab
was printed). Now he is CEO of the coprinting company
L.capitan
. Very passionate about his job and his company, he invited us to attend the ninth edition of their PrintAcademy, a lecture night and tour around their printing facilities.
It was an incredibly interesting evening with talks by Olivier Dengis about colour reproduction in offset printing, Patrick Bakermans of
Hexspoor
about softcover binding and Willem Vangeel of
Brepols
about hardcover binding.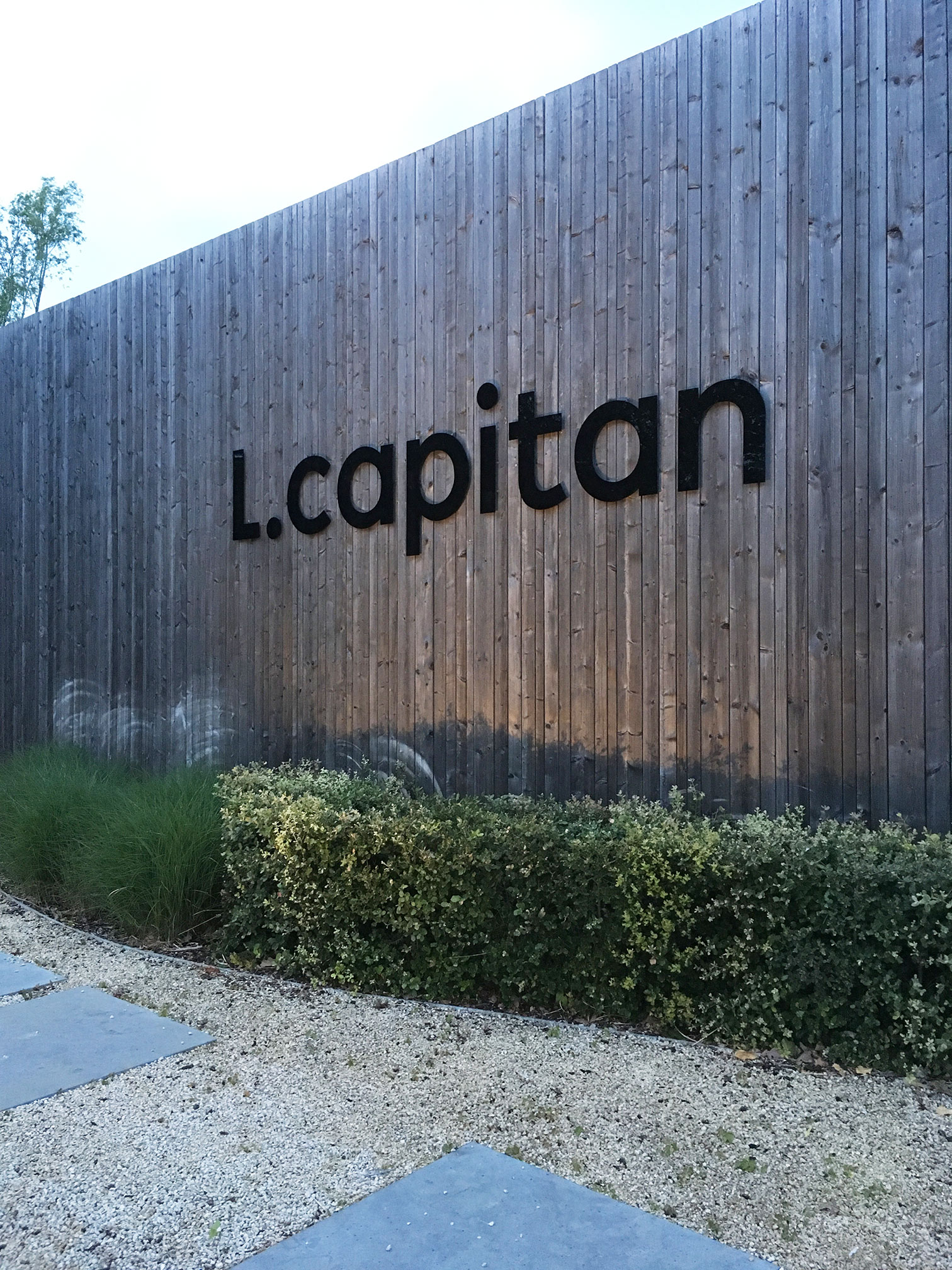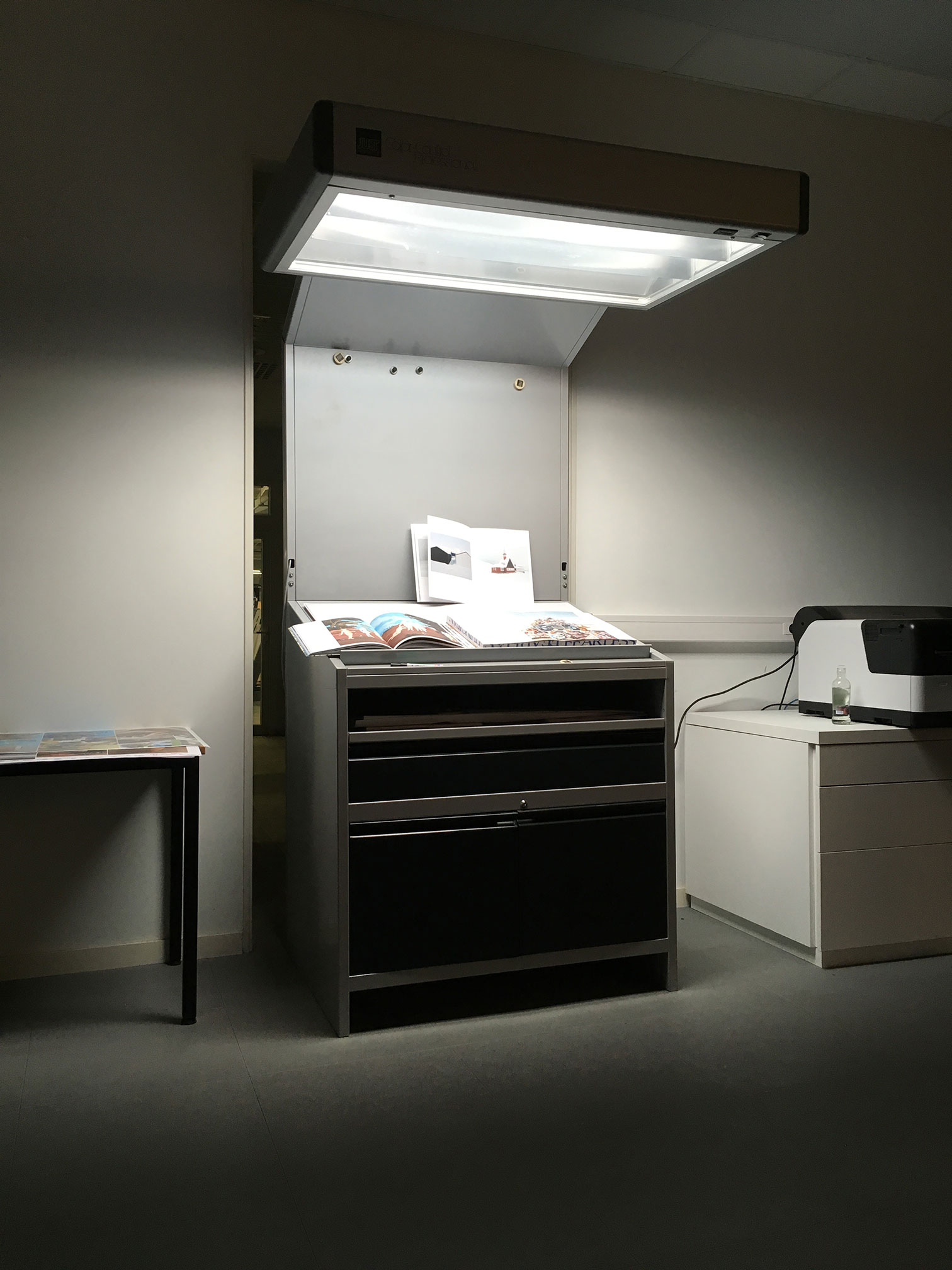 Visiting the Munken paper factory in Sweden
A few years ago, An De Coster of
Arctic Paper
Benelux invited me to visit the Munken paper mill in Munkedal, Sweden. I had heard about these group trips (and how great they are) from co-working buddy
Pieter Boels
, but the timing was never right. So I was very excited when the dates worked out this year. When I heard who else was joining us on the trip, I was even more excited. Lots of people I'd heard about but never met! My partner Mathieu – who is taking evening classes in graphic design – was also welcome to join the group.
We flew to Gothenburg on Monday morning. On the way to Munkedal, we stopped for lunch at a tiny, charming restaurant by the seaside. After checking into our hotel, we drove to a recently cut-down bit of woodland. Martin told us about forestry in Sweden, how long it takes for a forest to grow, which trees are best for making paper, and other interesting facts. Together we replanted about 200 spruce trees in a couple of hours. In the evening we drove to a wooden cabin located at a lake and had a lovely dinner (and sauna).
On the second day we visited the paper factory, a short walk from the hotel. Jonas, the Group Environmental Coordinator, talks us through the basics of papermaking and lead us around the various areas of the factory. They make a very concious effort to work sustainably and effectively, and we were all impressed. So all in all: an extremely interesting couple of days!